TKC Ministries June 2022
Current Topic: 401K Eternity Plan
They do lots and lots of advertising concerning getting older and one's retirement. No doubt this is an important topic and one we should not only give thought to but also take action and prepare.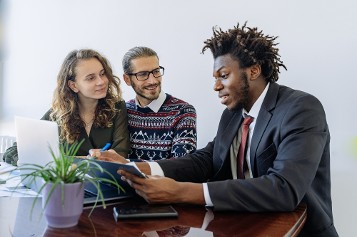 Photo: Antoni Shkraba pexels.com
What one comes away with , from these ads , is this...
By the time you retire , and if you were fortunate enough to do so , I guess the perfect setup would be , having most of your large debt under control , along with enough cash to basically do some of the things that you most enjoy , or never had enough time to do. This could be a number of things , such as traveling , or perhaps just some simple gardening in one's own back yard , more time with the grand kids or family and friends , with the main basis of feeling secure is that you have plenty of $$$$$$ , to live comfortably for the rest of your life.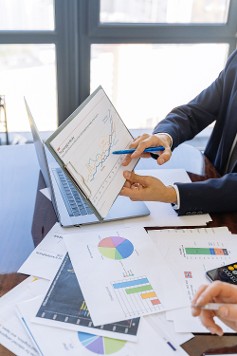 Photo: Antoni Shkraba pexels.com
Also we must consider our health and state of mind as we get older during this journey called life.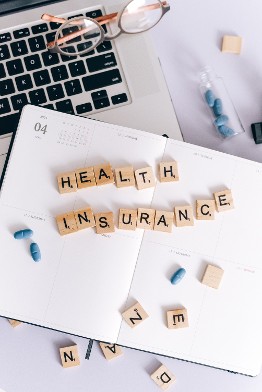 Photo: Olya Kobruseva pexels.com
If we are fortunate enough to have descent health , without too many aches and pains , and can be amongst those who don't experience the many diseases , viruses , homicides , accidents , etc. , that happen to human beings everyday! Well if you can accomplish and avoid these everyday things ......then I guess we can say you have lived a good life , full of wealth , health and happiness...........and we are so happy for you!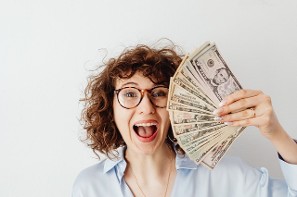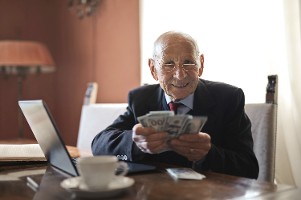 Photo by Karolina Grabowski pexels.com Photo by Andrea Piacquadio pexels.com
Now what?
God's word is a most wonderful book! It not only tells us how to live on this earth , such as , how to treat your wife or husband , how to treat your children , conduct business , conduct yourself , how to interact with God , how to treat the poor , the government , those in authority , etc. , etc.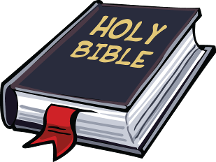 Bible Drawing : clipartix.com
The bible also tells us very clearly that our bodies decay and come to an end after a period of time. However this body may crumble and decay , but our soul and spirit live on.
So despite all the stuff you may have acquired in this life , you will not be able to bring it with you when you step into eternity.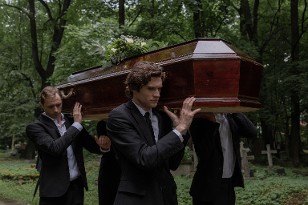 Photo by Cottonbro pexels.com
Now the scriptures are also very clear that there are only 2 places to go , when you step into eternity , and you my friend get to make this choice. Here are your eternal options........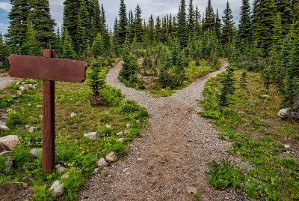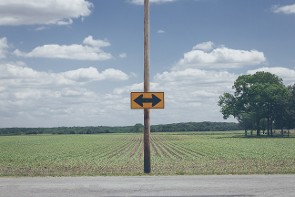 Photo by James Wheeler pexels.com Photo by Josh Sorenson pexels.com
Plan A - in choosing this plan you are making the decision that you wish to spend eternity with the Almighty....Jesus Christ!
Plan B - in choosing this option you are making the decision to not spend eternity with the Almighty......Jesus Christ!
If you choose Plan A .....here are just a few of your benefits......
Daniel 12:2 - And many of them that sleep in the dust of the earth shall awake , some to everlasting life , and some to shame and everlasting contempt.
And they that be wise shall shine as the brightness of the firmament; and they that turn many to righteousness as the stars for ever and ever. (this refers to those who win souls and turn many to righteousness) Refs. Dakes Bible
The above verse is quite something to comprehend. Shining as the brightness of the firmament , and like a star , for ever. Just let your tiny little brain chew on that as we move forward.
Matthew 19:29 - And every one that hath forsaken houses , or brethren , or sisters , father or mother , or wife , or children , or lands , for my name's sake , shall receive an hundredfold , and shall inherit everlasting life. Got it?! ( not scripture , just me asking you , do you get it?)
Now this passage of scripture is very familiar.... John 3:16. We see fans holding signs with this on it , up at a sporting events , not realizing that what they are holding sums it up for each and every human on this planet. More often than not , this passage is not read through and looked at thoroughly. It basically tells us about God's gift to this world ,and what happens to those who excepts it and what happens to those who reject it. As beautiful as it is , it's also blunt and right to the point , if you reject Christ , and look at salvation as being unimportant , than it's not going to go well with you!
I would like you to take some time and read John 3:16-21 , and see what Jesus has to say , and then see where you stand........be honest!
John 6:40 - And this is the will of him that sent me , that everyone that seeth the Son , and believeth on him , may have everlasting life: and I will raise him up at the last day.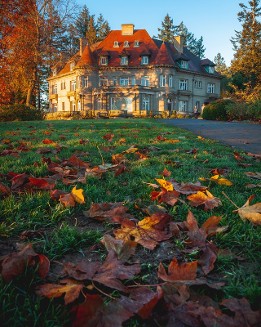 Photo by Jacob Colvin pexels.com Photo by Chris Goodwin pexels.com
John 14:2-3 - In my Father's house are many mansions: if it were not so , I would have told you. I go prepare a place for you. And if I go and prepare a place for you , I will come again , and receive you unto myself; that where I am , there ye may be also.
Did you notice , in the above verse , Jesus mentions "you" 4 times! Also gives a "ye"(you) , so the Good Lord is really focused on us in this passage of scripture.
Romans 6:22-23 - But now being made free from sin , and become servants of God, ye have your fruit unto holiness , and the end everlasting life. For the wages of sin is death but the gift of God is eternal life through Jesus Christ our Lord.
Matthew 5:3 - Blessed are the poor in spirit for theirs is the kingdom of heaven. Hey you , yes you , feeling a little down and poor in your spirit? Well if you except God's gift of salvation , Jesus says you and others like you , the kingdom of heaven is yours! Just thought I'd mention that!
Matthew 5:10 - Blessed are they which are persecuted for righteousness sake; for theirs is the kingdom of heaven
Matthew 5: 11 - Blessed are ye when men shall revile you , and persecute you , and shall say all manner of evil against you , falsely , for my sake. Rejoice and be exceedingly glad: for great is your reward in heaven: for so persecuted they the prophets which were before you.
Let's read what the apostle Paul said as he was nearing death......
2 Timothy 4:6-8 - For I am now ready to be offered , and the time of my departure is at hand. I have fought the good fight , I have finished my course , I have kept the faith: Henceforth there is laid up for me a crown of righteousness , which the Lord , the righteous judge , shall give me *at that day: and not only to me , but unto them also that love his appearing.
* The Day of Christ 1 Cor. 1:8 - Who shall *confirm you unto the end , that ye may be blameless in the day of our Lord Jesus Christ.
* As the testimony or Gospel of Christ was confirmed among you to attract you to Christ , so he will confirm you through this testimony until the end , that you may be blameless at his coming.
Throughout the bible there are many verses and stories that really hit home and touch ones heart. Well the scripture below is just one example of this......
2 Corinthians 2:9 - But as it is written , Eye hath not seen , nor ear heard , neither have entered into the heart of man , the things which god hath prepared for them that love him.
The above verse often has me thinking and wondering just what could God be referring to? He clearly states that you can sit there and ponder all you want , but I (The Lord) have things for you that you have never thought of! Wow! Now I must ask who would not want to be a part of this?
The next verses of scripture shows just why I am so eager to share the Word of God with anyone who will listen. Anyone who has died , and they loved the Good Lord , then I simply think about this scripture , where the apostle Paul brings joy and hope to those whose loved ones have died.
1 Thessalonians 4:13-18 - But I would not have you to be ignorant , brethren , concerning them which are asleep , that ye sorrow not , even as others which have no hope. For if we believe that Jesus died and rose again , even so them also which sleep in Jesus will God *bring with him. For this we say unto you by the word of the Lord , that we which are alive and remain unto the coming of the Lord shall not prevent (to come before or first , simply means the living saints will not go before the dead saints , but both will go together to meet the Lord in the air) them which are asleep. For the Lord himself shall descend from heaven with a shout , with the voice of the archangel , and with the trump of God: and the dead in Christ shall rise first: Then we which are alive and remain shall be caught up together with them in the clouds , to meet the Lord in the air; and so shall we ever be with the Lord. Wherefore comfort one another with these words.
Wow! , well my friends! , your not going to get much better than that! Anyone who does not want to participate in this , has been grossly misled.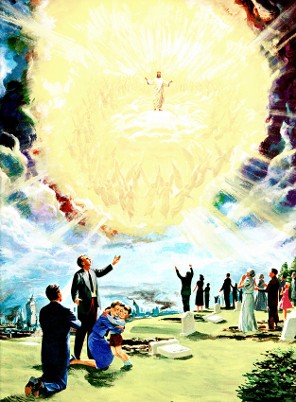 Photo : 4000 Jesuspictures.com
*Body -Sleep not Soul -Sleep - Refs. Dakes bible
Christians at death go immediately to heaven to await the resurrection of their sleeping bodies ( 2 Cor.5:8; Phil. 1:21-24; Heb. 12:22-23 ; Rev.6:9-11). When Christ leaves heaven to come down in the air of the earth (1 Thes. 4:17) , the saints who are in heaven will come back with him and be resurrected in a moment (1 Thes. 4:14 ; 1 Cor 15:51-58).
Revelation 19:5-9 - And a voice came out of the throne saying praise our God , all ye his servants , and ye that fear him , both small and great. And I heard as it were the voice of a great multitude , and as the voice of many waters , and as the voice of mighty thunderings saying , Alleluia; for the lord God omnipotent reigneth. Let us be glad and rejoice and give honour to him: for the marriage of the Lamb is come , and his wife hath made herself ready. And to her was granted that she should be arrayed in fine linen , clean and white: for the fine linen is the righteousness of saints. And he saith unto me write , Blessed are they which are called unto the marriage supper of the Lamb. and he saith unto me , these are the true says of God.
Revelation 19:11-16 - And I saw heaven opened , and behold a white horse ; and he that sat upon him was called Faithful and True , and in righteousness he doth judge and make war. His eyes were as a flame of fire , and on his head were many crowns; and he had a name written , that no man knew , but himself. And he was clothed with a vesture dipped in blood: and his name is called he Word of God. And the armies which were in heaven followed him upon white horses , clothed in fine linen , white and clean. And out of his mouth goeth a sharp sword , that with it he should smite the nations: and he shall rule them with a rod of iron: and he treadeth the winepress of the fierceness and wrath of Almighty God. And he hath on his vesture and on his thigh a name written , KING OF KINGS , AND LORD OF LORDS.
Wow! , wow! , wow! , so I must ask you the reader , after reading these passages of scripture , whose side do really want to be on?! huh? , shouldn't require much thought now should it?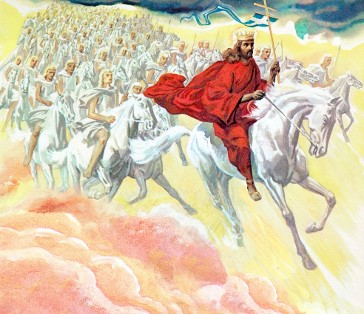 Picture : 4000Jesuspictures.com
My Friends , did you know that at the very end of the bible our Lord and Savior , Jesus Christ , gives a last warning against sin and eternal punishment. Here it is.........
Revelation 22:16-21 - I Jesus have sent mine angel to testify unto you these things in the churches. I am the root and the offspring of David , and the bright and morning star.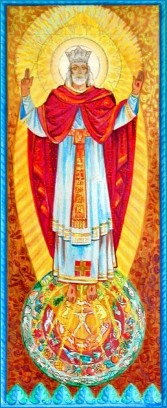 Picture : 4000Jesuspictures.com
And the Spirit and the bride say , come. And let him that heareth say , come. And let him that is athirst come. And whosoever will let him take the water of life freely.
For I testify unto every man that heareth the words of the prophecy of this book , If any man shall add unto these things , God shall add unto him the plagues that are written in this book. And if any man shall take away from the words of the book of this prophecy , God shall take away his part out of the book of life , and out of the holy city , and from the things which are written in this book.
He which testifieth these things saith Surely , I come quickly. Amen , even so come Lord Jesus. The grace of our Lord Jesus Christ be with you all , Amen. (The end of the New Testament.........The end of the Holy Bible!)
*** Just a quick note.........
With all the buzz going on about money and finances , stocks etc. The big push is to buy gold and silver! I'm sure this is a wise thing to do if you can do so. However my thoughts keep going back to the prophet Ezekiel.......
Ezekiel 7:19 - They shall cast their silver in the streets , and their gold shall be removed: their silver and their gold shall not be able to deliver them in the Day of the Wrath of the Lord: they shall not satisfy their souls , neither fill their bowels: because it is the stumblingblock of their iniquity.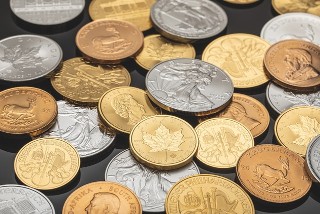 Photo by Zlat'a'ky.cz pexels.com