TKC Ministries - Leon Hagins
Current Message - Prayer March 6 2016
Prayer
I can think of no other function that is so important and yet not commonly done, and that is prayer. My prayer life is a big part of my life, in that I participate in this function everyday. I could not imagine going through an entire day without saying something to the good Lord.
Iam constantly crying out to God concerning our lewd behavior, the disregard to his Holy Word, ungrateful for his mercy, love, forgiveness, salvation, and a whole list of other things he has done and continues to do. And yet man's rebellion continues to grow.
My prayers consist of other topics also, such as thankfulness. If you haven't thanked God lately........then I'm going to ask you to stop reading this article, and pause just for a moment, and thank God for something! And don't you dare tell me that you can't think of, or don't have something that you can thank God for......Don't even go there!
Need some help?.......how about thanking God that your eyes can read these letters, and just a reminder he made those eyeballs, yours and everyone's. How about that belly of yours? If it's not full, I betcha it soon will be, with what I don't know....healthy choice? , how about some pizza, burgers and fries? My point is, most of us don't have to wait too long to find something to consume and satisfy our hunger and thirst.
Those of you with children do you not pray to God Almighty concerning your kids?! If not, you should be. There was a time when a parent was at work, and the kids were in school, they felt that there was some sort of security which prevailed in the classrooms, and hallways.
Unfortunately nowadays schools have become places of sheer terror. Madmen are opening up on our children, and then people wonder why I ask, do you pray? Yeah sure I remember bullies in school, but nothing like I see and hear of these days. Cyber-bullying has proven to be deadly, where our young people are taking their lives over something that was posted for all to see.
Recently in Flint Michigan the high levels of lead found in the blood of children prompted the mayor to declare a state of emergency. Once again we have maniacs killing our children. Don't we need to pray?
Now there are some people, when they pray, they come to the Good Lord with their shopping list! It's all about how God is going to hook them up. Never mind the fact that some of their neighbors, relatives, co-workers and many others, know nothing about God, thus having a detrimental effect on their eternal destiny.
Let us take a look at what Jesus had to say about praying,
Matthew 6:5-15...... And when thou prayest, thou shalt not be as the hypocrites are: for they love to pray standing in the synagogues and in the corners of the streets, that they may be seen of men. Verily I say unto you, they have their reward. But thou, when thou prayest, enter into thy closet, and when thou hast shut thy door, pray to thy Father which is in secret; and thy father which seeth in secret shall reward thee openly. But when ye pray, use not vain repetitions, as the heathen do: for they think that they shall be heard for their much speaking. Be not ye therefore like unto them: for your Father knoweth what things ye have need of, before ye ask him. After this manner therefore pray ye: Our Father which art in heaven Hallowed be thy name. Thy kingdom come. Thy will be done in earth, as it is in heaven. Give us this day our daily bread. And forgive us our debts, as we forgive our debtors. And lead us not into temptation, but deliver us from evil: For thine is the Kingdom, and the power, and the Glory, for ever. Amen.
For if ye forgive men their trespasses, your heavenly Father will also forgive you: But if ye forgive not men their trespasses, neither will your father forgive you.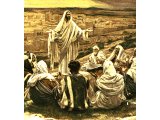 Jesus Teaching
Throughout the bible there are many examples of prayer. And when one talks about prayer how can we not mention David. This man knew and had no problem on how to get down on his face and cry out to God.....for everything. He prayed thanking God for blessing, he prayed for forgiveness for his folly, he prayed for deliverance from his enemies, he prayed thanking God for his love and never ending mercies. Oh yes my friends, crying out to, and depending on God came natural to David, despite his flaws and faults, which we all have.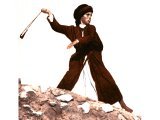 In the book of Psalms David gives us many examples of his love for God, let's look at some of his writings......
Psalm 3:1-6 - Lord how are they increased that trouble me! Many are they that rise up against me. Many there be which say of my soul, there is no help for him in God. Selah. But thou O Lord, art a shield for me; my glory, and the lifter up of mine head. I cried unto the Lord with my voice, and he heard me out of his holy hill. Selah. I laid me down and slept; I awaked; for the Lord sustained me. I will not be afraid of ten thousands of people,that have set themselves against me round about.
Psalm 51:1-3 - Have mercy upon me, O God, according to thy lovingkindness: according unto the multitude of thy tender mercies blot out my transgressions. Wash me throughly from mine iniquity, and cleanse me from my sin. For I acknowledge my transgressions: and my sin is ever before me.
Psalm 51:11-13 - Cast me not away from thy presence; and take not thy holy spirit from me. Restore unto me the joy of thy salvation; and uphold me with thy free spirit. Then will I teach transgressors thy ways; and sinners shall be converted unto thee.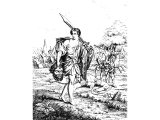 David with the head of Goliath, picture by Carlo Maratti
I once heard Pastor David Paul preaching on the following text. He made note of the fact that these words are from David the giant killer, David who slew a bear and a lion, a truly fierce warrior. And yet in this text he is not only distressed but also the distress has been brought about by a trusted friend....
Psalm 55:1-8 ; 12-14 - Give ear to my prayer, O God; and hide not thyself from supplication. Attend unto me, and hear me: I mourn in my complaint, and make a noise; because of the voice of the enemy, because of the oppression of the wicked: for they cast iniquity upon me, and in wrath they hate me. My heart is sore pained within me: and the terrors of death are fallen upon me. Fearfulness and trembling are come upon me and horror hath overwhelmed me. And I said, oh that I had wings like a dove! For then would I fly away, and be at rest. Lo, then would I wander far off, and remain in the wilderness. Selah. I would hasten my escape from the windy storm and tempest. For it was not my enemy that reproached me; then I could have borne it: neither was it he that hated me that did magnify himself against me; then I would have hid myself from him. But it was thou a man mine equal, my guide, and mine acquaintance. We took sweet counsel together, and walked unto the house of God in company.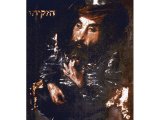 King Hezekiah
King Hezekiah........
When the Assyrian army was threatening Jerusalem and insulting God Almighty, King Hezekiah prayed to God.
2 Kings 18:9-37
In response to Hezekiah's prayer, God sends an angel which slew 185,000 Assyrian soldiers in one night. 2 Kings 19:20:35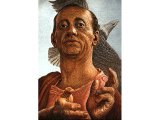 Isaiah , a portrait by Guy Rowe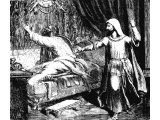 Isaiah warns Hezekiah of his empending death.
2 Kings 20:1-11- The prophet Isaiah arrives with sad news. He tells the ailing King Hezekiah that he is going to die. King Hezekiah cries out to the Lord, and the Lord gives him and additional fifteen years to live.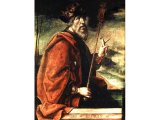 Ezra
This painting of Ezra was done by the spanish artist Berruguete (1450-1504)
Ezra......
The rebuilding of the temple had just been completed, when news was brought to the priest Ezra, of how that, not only the children of Israel, but also the priests and the Levites, had intermarried with some of the Hittites, Canaanites, Perizzites, Jebusites, Ammonites and other groups which God had strictly forbade them to do. Let's take a look at Ezra's reaction, and how he cries out to God for mercy and forgiveness.....
Ezra 9:3-7 - And when I heard this thing, I *rent my garment and my mantle, and plucked off the hair of my head and of my beard, and sat down astonied. Then were assembled unto me every one that trembled at the words of the God of Israel, because of the transgression of those that had been carried away ; and I sat astonied until evening sacrifice. And at the evening sacrifice I arose up from my heaviness; and having rent my garment and my mantle, I fell upon my knees, and spread out my hands unto the Lord my God. And I said, O my God, I am ashamed and blush to lift up my face to thee, my God: for our iniquities are increased over our head, and our trespass is grown up unto the heavens.
Since the days of our fathers have we been in great trespass unto this day; and for our iniquities have we, our kings, and our priests , been delivered into the hands of the kings of the lands, to the sword, to captivity, and to spoil, and to confusion of face, and it is this day.
*Rending the garments, plucking out the hair, and sitting down astonished were signs of inward mourning over some great calamity.
I encourage you to read the remaining book of Ezra, and how he continued to fast and pray for terrible situation. It's a very moving story for the people gather together realizing their folly, and weep bitterly before the Lord. They finally agree to put away all their strange wives and come back and serve the true and living God.
I always enjoy sharing the word of God where and whenever I can. I love telling women that the scriptures are full of some of the most heartfelt, moving, tearful stories involving women. One such story is about a young woman named Hannah(her name means ("gracious").
Hannah was childless, and was brokenhearted over this. She prayed, wept, and cried so unto the Lord that Eli, the high priest thought she was drunk. But she quickly explained to him her dilemma, and this representative of God (Eli) spoke comforting words to Hannah. Which were later fulfilled, bringing this young lady much joy. 1 Samuel chapter 1 (Dakes bible page 500 letter e )
Also be sure to read Hannah's prayer after her son Samuel was born. 1 Samuel 2:1-10
More prayer scriptures......
Matthew 5:44- Jesus says.... But I say unto you, Love your enemies, and bless them that curse you, do good to them that hate you, and pray for them which despitefully use you, persecute you.
Luke 18:1- And he spake a parable unto them to this end, that men ought always to pray, and *not faint.
*Not to lose heart. Do not give in to doubt, fear, unbelief, discouragement, or use excuses for unbelieff when prayer is not answered immediately. Rebuke and resist all opposition to the answer and all suggestions of a failure. It is a divine, blood-bought right to get an answer, so do not lose heart.
James 5:16 - Confess your faults one to another, and pray one for another, that ye may be healed. The effectual fererent prayer of a righteous man availeth much.
Intercessory Prayer
Charles Spurgeon
From a sermon in 1861 entitled "Intercessory prayer" C.H. Spurgeon said the following....
Mr. Spurgeon's text was taken from Job 42:10 - And the Lord turned the captivity of Job, when he prayed for his friends: also the Lord gave Job twice as much as he had before.
He mentions Abraham and how he prayed to God saying O' that Ismael might live before thee. Let us recall how Abraham pleaded with God to spare Sodom. Genesis chapter 18
What about Moses?, never was there a mightier prophet than Moses, and never was there one so intensely immeresed in intercessory prayer. How often did he intercede for the children of Israel? Even to the point where he told God to blot his name out of the book of life, if he wasn't going to spare the people.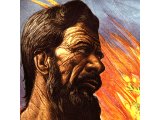 Moses and the burning bush , a portrait by Guy Rowe
Jeremiah wept constanly before the Lord, Peter preached from the top of a house , Stephen intereceded while being stoned to death. Paul always was praying for the saints "Making mention of you daily in my prayers" , was a saying he was known for.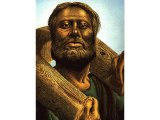 Jeremiah , a portait by Guy Rowe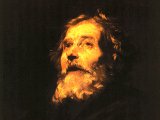 Peter , by William Holman Hunt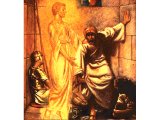 Peter delivered from prison, by C.F. Vos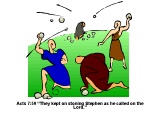 The stoning of Stephen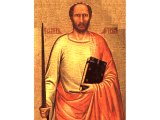 St. Paul , by Bernado Daddi
Mr. Spurgeon said he would question anyone's Christianity, if they didn't pray for their children, spouses, siblings, neighbors, co-workers etc. We can see that Christ in his Holy Gospels has given us this duty and privilege to pray for others.
Mr. Spurgeon also commented that intercessory prayer is the sweetest prayers God hears. For the prayers of Christ are of this character.
A few wonderous acts that have been brought about by intercessory prayer........
Intercessory prayer has stayed plagues, it removed the darkness that rested over egypt, it drove away the frogs which did leap upon the land, it scattered the lice and locust which plagued the egyptians, it stayed the mighty hand of God when he poured out his wrath upon pharaoh and his people. Intercessory prayer has healed diseases. Moses prayed for Miriam to be healed of her leprosy(scr). A king's withered arm was restored. Intercessory prayer has raised the dead. How many souls were saved by intercessory prayer? the "Recording Angel" has record of this, eternity thou shall reveal. There is nothing that intercessory prayer can't do. O believer what a mighty engine you have in our hand, use it well, use it constantly!
Perry Stone
Evangelist/Author Perry Stone, from his teaching
" The Secrets of Powerful Intercessors"
* Intercessors pray early. Jesus rose early to pray.....
Matthew 14:23-25 - And when he had sent the multitudes away, he went up into a mountain apart to pray: and when evening was come, he was there alone. But the ship was in the midst of the sea, tossed with waves: for the wind was contrary. And in the *fourth watch of the night Jesus went unto them, walking on the sea.
*fourth watch of the night - 3AM - 6AM in the morning.
Also see...
, Mark 1:35 ; 6:46, Luke 6:12 ; 9:28
Mr. Stone also stated that some intercessors pray up to an hour. We don't have to do this, but after a while, if you are really seking God , an hour will just zip right by.
Jesus said, could you not tarry with me for one hour. Matthew 26:40 & Mark14:37
Darlene Bishop
In her sermon entitled "The Power of Intercession" Pastor Darlene Bishop preached from the text found in
Ezekiel 20:30-31-In this text God talks about his searching for an intercessor to pray to him so that he does not have to pour out his wrath upon the people.
Pastor Bishop stated that many folks wonder why God in the past has judged some nations, and yet has judged America and all her sins. Pastor Bishop says it's all the people who weep and moan and, pray for this country....and these prays have stayed the hand of God.
More......
The prayers of the saints- Revelation 5:8
The Holy Spirit intercedes for us - Romans 8:26
Thank you so much for stopping by. I hope you are seeking God like I am.
leon
* 4 wings
* two amazing compound eyes
The feather is a masterpiece of strength and lightness combined in one thing. There is a series of little hooks and barbed wire type material that can zip together. The bird uses it's bill to zip and unzip these little units. The feathers are various sizes along the wing which coordinate with the others. God has equipped birds with special air bags. These air bags are attached to the lungs and help supply oxygen to the bird's body while keeping it light in the air.The feather is a masterpiece of strength and lightness combined in one thing. There is a series of little hooks and barbed wire type material that can zip together. The bird uses it's bill to zip and unzip these little units. The feathers are various sizes along the wing which coordinate with the others. God has equipped birds with special air bags. These air bags are attached to the lungs and help supply oxygen to the bird's body while keeping it light in the air.